Introduction
Divorce is a very tough path to walk on however with the right guidance things become easy. Sometimes divorce can even get messy and ugly. Having a professional by your side during this time can bring you confidence, security, safety, and optimism.
In this article, we are going to read about the reasons why should you hire a divorce lawyer. We will also read about the best divorce lawyer in Delhi.
Keep Reading!
Suggested Reading – Reasons for divorce in India
7 Reasons why you need to hire a divorce lawyer in Delhi
In the section given below, we are now going to discuss 7 reasons why you should hire a divorce lawyer during your divorce process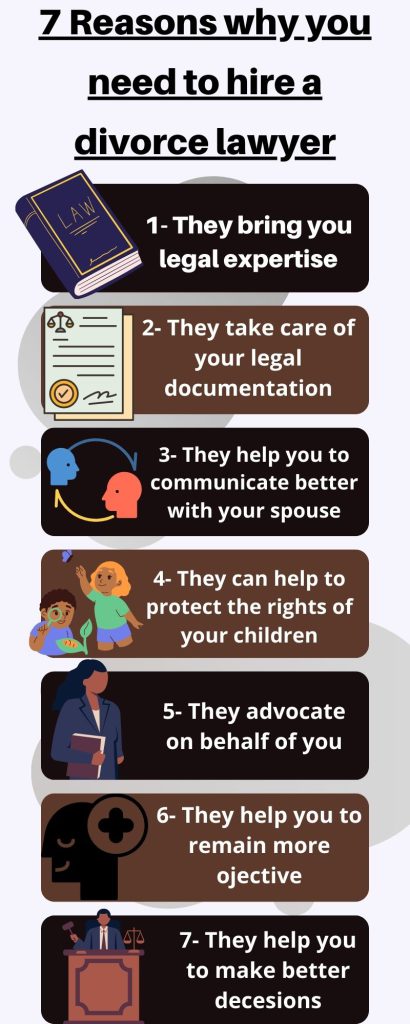 1- They Bring you legal expertise
The very first reason for hiring a divorce lawyer is because of the legal expertise that they bring on to your table.
It is very crucial to choose a lawyer who has both expertise and experience in the field of divorce.
The first good reason for involving a divorce attorney in your divorce proceedings is the fact that an attorney has a good grasp of the law, and therefore is in a better position to help with the legal proceedings.
Additionally, laws vary from country to country and state to state, and it is, therefore, necessary to have someone who knows these variations at hand so that they can keep the process on track. A good attorney lawyer is also well versed with court proceedings and therefore knows how to proceed to make the divorce as successful and peaceful as possible.
Suggested Reading – How to avoid paying alimony in India
2- They take care of your legal documentation
The whole procedure of divorce requires a lot of paperwork and documentation, Hiring a lawyer can save you from a lot of hassle of the paperwork.
Also for a layman, going through all the papers and documents is tough, and understanding the legal terms is even tougher. Your lawyer can help you immensely with that because they are experienced and well-read they can see the minute details that someone naive with these situations would possibly fail to notice.
A strong case requires strong drafting and proper evidence of every little thing. If you hire a lawyer both things will be sorted.
The lawyer will draft the legal notice with all the necessary details. The drafting part is the basis of your entire case and you need to make it strong and for that, you definitely need an experienced lawyer in the field of law.
Suggested Reading – Aspects you must take care before filing for a divorce
3- They help you to communicate better with your spouse
Generally, divorce turns out to be ugly and the couples don't even wish to speak to each other to sort out their differences. In this scenario taking the help of a divorce lawyer can help immensely in communicating with your spouse.
When a divorce is happening between two people, a lot of emotions are involved. Throughout the period you feel a sense of betrayal and sadness. All these emotions and bitterness makes communication very difficult.
Communication is the key! and hence communication is very essential.
A lawyer can talk and convey any message that you wish to say to your partner in a professional manner during the divorce proceedings
Suggested Reading – Legal Grounds for divorce in India
4- They can help you to protect the rights of the children
If the children are involved in the process of the divorce, it is very likely that the custody case will simultaneously go to court.
When deciding with whom the children should stay, the court always looks into the welfare of the child. Usually, courts will try to keep both parents involved in the lives of the children. Even if sole custody is given to one parent, the other parent may have visitation rights.
Some parents may also go for joint custody, joint custody means that each parent will have custody of the child for a specific period of time.
As per data mostly the mother gets custody of the child, however, fathers are equally eligible to get custody of the child.
Hiring a lawyer for your divorce case becomes even more important if you have children involved. The lawyer will make sure that everything remains fair as possible.
If your spouse is abusive and thinks he/she can be dangerous to your child, you can file for acquiring sole custody and restrict your spouse's access to the child.
In these scenarios, the lawyer will help you by proving your point that it is in your child's best interest to remain away from your spouse.
If you are a mother you can also ask for your maintenance as well as the maintenance of your child. All these issues are best addressed by the lawyer.
Suggested Reading – How alimony in India is decided
5- They advocate on behalf of you
When you are in the middle of a divorce, you need someone to advocate for you in these tough times.
This becomes even more important if you and your partner share a lot of joint assets. If you try to negotiate with your spouse on your own, you might end up not being able to agree. Your spouse may get their own lawyer to protect their interest.
Your lawyer can also make sure everything is fair. If the lawyer feels that your spouse is making unnecessary demands and is asking for more, then your lawyer will fight for you.
Suggested Reading – Difference between a contested and uncontested divorce
6- They help you to remain more objective
During a divorce, a person goes through a whole lot of emotions, and as a result, it becomes harder for you to remain objective.
Sometimes due to anger and feeling of revenge, some divorcing spouses want to keep all their assets or believe that they are entitled to more than their fair share.
A good lawyer will let you know what your realistic options are, and they will fight for what you want using fair and objective legal standards.
Suggested Reading – How to file for a divorce in India
7- They help you to make better decisions
People tend to get confused during those tough times, and as a result, you often make bad decisions that can prove bad for your case. Sometimes, unexpected things happen during divorces, when this happens, you might not know what to do and what not to do. That's where a divorce lawyer can come to your rescue. They can help you review the situation, make you understand the whole scenario, and then help you to make the best decisions.
Sandhya Gupta and Associates is a law firm in Delhi/NCR, founded in February 2009 to serve as a single-window legal service provider i.e. Advocates, Solicitors, and also as Legal Consultants in this dynamic commercial environment. It brings its services to the table with a team of committed and dedicated professional advocates and lawyers in Delhi, who are specialists in their fields of practice of Law in Delhi and all over the territories of the Union of India and pursues a philosophy of symbiotic relationships with client and works as an integral part of the client's team.
The firm has its office in Preet Vihar, New Delhi, and has its chamber in Karkardooma District Court, Tis Hazari District Court, and Hon'ble Supreme Court. The firm and its partners and associates across India provide legal advisory and expertise to clients across diverse practice areas and industry verticals in the country. We have a team of High Court lawyers and Supreme Court lawyers dealing with cases all over India.
The firm's areas of expertise include Divorce Lawyers, Criminal Lawyers, Bail lawyers, cheque bounces, civil lawyers, and corporate lawyers.
The firm's areas of service are family law, dowry case law, child custody law, marriage registration, court marriage law, drunk & drive case, cyber law, property law, supreme court lawyers, service and cat matters law, and labor and industrial law. Under the tutelage of great leadership, the firm aspires to build long-term relationships with its clients, through teamwork guided by integrity and principles of honesty, accountability, and consistency. The firm understands the client's perspective- the need for responsive legal advice, expertise, creativity, and value.
Our advocates and lawyers are drafters of the highest kind and are experts in drafting complaints, writing petitions, deeds, and all kinds of contracts and agreements, etc, and are highly competent in negotiating reviewing, and structuring all kinds of agreements, deeds, and contracts.
It is pertinent to mention here that the success rate of our advocates is amongst the best in India in the field of law. We are one of the top leading legal firms in Delhi-NCR handling cases in Delhi, Noida, and Gurgaon as well as all over India. Our clients belong to various sectors of commerce and industry and include multinational corporations, public sector bodies, and entrepreneurs. We have a substantive international presence, and through our immense network can provide proactive and efficient service to our clients with international business.
Conclusion
I hope you have understood the importance of hiring a lawyer during the divorce process. I hope this article helps you to decide on the best lawyer for your divorce case. If this article has helped you, do share it with your friends and family.